BUBBLE GUMMERS

---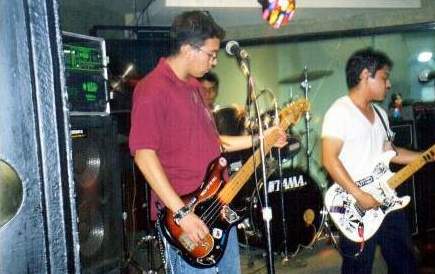 BUBBLE GUMMERS: HISTORY OF 3 LOSERS
Well, the BUBBLE GUMMERS is a 3 piece Pop Punk band from Monterrey,Mexico. They have been together since 1997.Rulo used to play the bass then, but now the band consist of:
Chuck Bubble He founded the band.He writes all the songs and he plays the guitar and do the vocals.He used to play guitar for an old harcore band named ATROZSISTEMA.They released an split ep with MADRIZA SALVAJE, another old punk band from Monterrey.With ATROZSISTEMA Chuck didnt write any songs, but he had a lot of fun there, and he payed his punk rock dues there.Traveling in 8th class rate train to play in Mexico City, drinking the cheapest alcohol there is with gutter punks, staying at punks squatts etc. Nowdays Chuck is happy writing all those love pop punk songs for the BUBBLE GUMMERS.
Carlos Plasmin He plays the bass and do chorus.Besides playing in the BUBBLE GUMMERS he has his own band named DR.PLASMA where he writes the tunes and sings.He also records local bands in a 4-Track in his studio (aka his bedroom).So far he have recorded demos to bands like CONTRAKAOS, DIVISION MINUSCULA, PLAN 9, PLAYMOBIL,DARKNESS OF BLOOD, DR.PLASMA, etc.
Mello Navarro He plays drums and do lots of drugs.Hes also the skater of the band.Looking for sponsor by the way.He used to play drums for a band named PRETZEL.They sounded like WEEZER or something. Hes better off now.
BUBBLE GUMMERS sound is very inspired by bands like THE QUEERS, SCREECHING WEASEL, SHOCK TREATMENT.Lyrically they have influences by those same bands or SOCIAL DISTORTION.Powerful and melodic punk with songs about beers, girls, broken hearts, ex girlfriends, being a loser, etc.The music is very catchy and so are the chorus, Chucks voice is really good and it fits the music perfectly.In no time you find yourself singing along with him.
Oh yeah, the BUBBLE GUMMERS sing in Spanish, but they have a few covers in english they play.Like "This Magic Moment" which is included in their debut cassette or others they play usually at parties like "Mrs.Perfect Girl" by WESTON, "Punkhouse" by SCREECHING WEASEL, plus some songs by SOCIAL DISTORTION and others i cant recall cause when they play those at parties im usually drunk by then.So far the BUBBLE GUMMERS have played at a lot of parties in Monterrey,Mexico plus one in Austin,TX.They played with NY radical hardcore band HUASIPUNGO here in Monterrey.And theyre always up to play wherever.
So far, BUBBLE GUMMERS have 5 new songs that are not on the cassette, and theyre looking to put them in some compilation, so if youre working in one or know someone who is PLEASE send an email and let us know.Or if youd like to have the BUBBLE GUMMERS play at your party or show get in touch too.